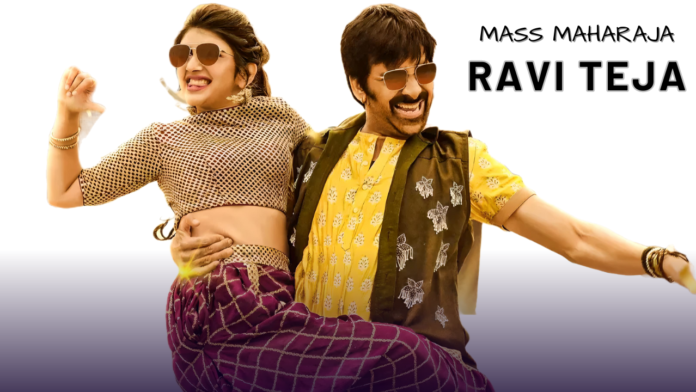 In a remarkable collaboration, Mythri Movie Makers recently unveiled their upcoming project, tentatively titled RT4GM. This film, directed by Gopichand Malineni, marks his fourth partnership with the renowned actor Ravi Teja.
While Ravi Teja takes the lead role, the remaining cast members for this venture have yet to be disclosed by the production team. Audiences eagerly await the unveiling of the plot and other intricate details surrounding this cinematic endeavor.
RT4GM will be enriched by the musical prowess of Thaman. Mythri Movie Makers' Naveen Yernani and Y Ravi Shankar are providing their support as producers for this film.
Notably, Ravi Teja and Gopichand have previously collaborated on three successful projects: Don Seenu (2010), Balupu (2013), and Krack (2021). Gopichand's previous directorial venture, Veera Simha Reddy, featured the illustrious Nandamuri Balakrishna.
As for Ravi Teja, his recent appearances include Waltair Veerayya and Ravanasura. Moreover, he has several exciting projects lined up, including Tiger Nageshwara Rao, Eagle, and an untitled film helmed by Harish Shankar.
A Glimpse into Ravi Teja's Profile
Ravi Teja is a highly acclaimed Indian film actor renowned for his remarkable contributions to Telugu cinema. With an impressive career spanning over two decades, he has solidified his position as one of the most popular and successful actors in the Telugu film industry.
Standing tall at 5 feet 8 inches and weighing approximately 80 kilograms, He was born on January 26, 1968, in Jaggampeta, Andhra Pradesh, India. Currently 52 years old, he is widely recognized for his energetic dance moves, powerful dialogue delivery, and has garnered numerous awards for his exceptional performances.
The journey of Teja's acting career commenced with his debut in the Telugu film 'Nee Kosam' in 1999. Since then, he has graced the silver screen in over sixty films, amassing accolades for his remarkable acting skills. His talent has earned him nominations for prestigious awards, including the Filmfare Awards South.
He is happily married to Kalyani Teja, and together they are blessed with two children. Notably, he ranks among the highest-paid actors in the Telugu film industry, with an estimated net worth of around $20 million. The actor also maintains an active presence on social media, boasting over one million followers on Instagram.
Early Career
Ravi Teja's profound passion for films led him into the captivating realm of the film industry. Initially, he ventured into the field as an assistant director, gaining experience in both television and feature films. His work encompassed notable projects in both Bollywood and Tollywood, including titles such as Prathibandh, Aaj Ka Goondaraj, and Criminal. Additionally, he secured minor roles in Bollywood productions.
He had a memorable role as one of Chiranjeevi's friends in "Aaj Ka Goondaraj." Besides, he worked with Krishna Vamsi as an assistant director for Ninne Pelladatha, even making a small on-screen appearance in the film. Subsequently, Ravi Teja received a well-deserved opportunity from Krishna Vamsi, who cast him as one of the lead actors in the critically acclaimed movie, Sindhuram.
Although the film brought him recognition, it did not propel his career significantly. Following that, he portrayed secondary roles in several films, including Pattukondi Chuddam, Premaku Velayara, Padutha Thiyaga, among others. Finally, in 1999, Ravi Teja secured his breakthrough as a lead actor with the film "Neekosam," directed by Sreenu Vaitla.
Professional Success
Ravi Teja's career gained significant momentum with his performance in "Nee Kosam," directed by debutant Srinu Vaitla, which earned him an award. He continued to excel in supporting roles in films such as Annayya, Budget Padmanabam, Tirumala Tirupati Venkatesa, and Ammayi Kosam.
However, his big break arrived with "Itlu Sravani Subramanyam," a collaboration with director Puri Jagannath, who sought to establish himself after the success of his debut film, "Badri," featuring Pawan Kalyan. The film received a positive response from the audience, marking a significant turning point in Ravi Teja's career.
Furthermore, director Vamsi directed Ravi Teja in "Avunu Validharu Ishtapaddaru," a project that heralded Vamsi's return to the industry and added another hit to Ravi Teja's repertoire. Meanwhile, Ravi Teja's friend, Poori Jagannathh, who achieved great success with the Kannada film "Appu," decided to remake it in Telugu, with Ravi Teja also producing the film.
This venture, titled "Idiot," portrayed Ravi Teja as a charismatic and mass-oriented hero. The film, along with his previous successes, earned him the moniker of the "Hat-Trick" hero. Notably, his character Chanti became immensely popular, with his famous line, "Chantigadu local," continuing to resonate with the youth in Andhra Pradesh.
In 2003, Ravi Teja delivered a stellar performance in the lead role of "Amma Nanna O Tamila Ammayi," which emerged as one of the biggest hits of that year. The year 2006 proved to be particularly remarkable for Ravi Teja as he achieved one of the greatest successes of his career with "Vikramarkudu," directed by S. S. Rajamouli. Additionally, in 2008, the film "Krishna," directed by V. V. Vinayak, shattered Ravi Teja's previous records, emerging as the biggest hit of his career.