Ahead of this year's IFA, which runs this weekend from September 1 to September 5, Lenovo is announcing some new products aimed at gamers and creators. First among them is the Legion Go handheld gaming PC, but also the world's first water-cooled 16-inch laptop, the Lenovo Legion 9i.
Lenovo Legion Go is a game-changer for handheld gaming.
With many companies now joining the Windows gaming handheld space, Lenovo decided to take things to the next level with the Legion Go. It's easily the most premium device in this category, which you could argue is the high price. In terms of performance, the Lenovo Legion Go comes with AMD Ryzen Z1 Extreme processor which is tuned for such devices and is paired with 16GB LPDDR5x RAM clocked at 7500MHz. It can accommodate up to 1TB SSD and supports microSD expansion. It also comes with Lenovo's Coldfront cooling system to keep things cool and has a power bypass mode to keep the battery from draining when gaming while plugged in.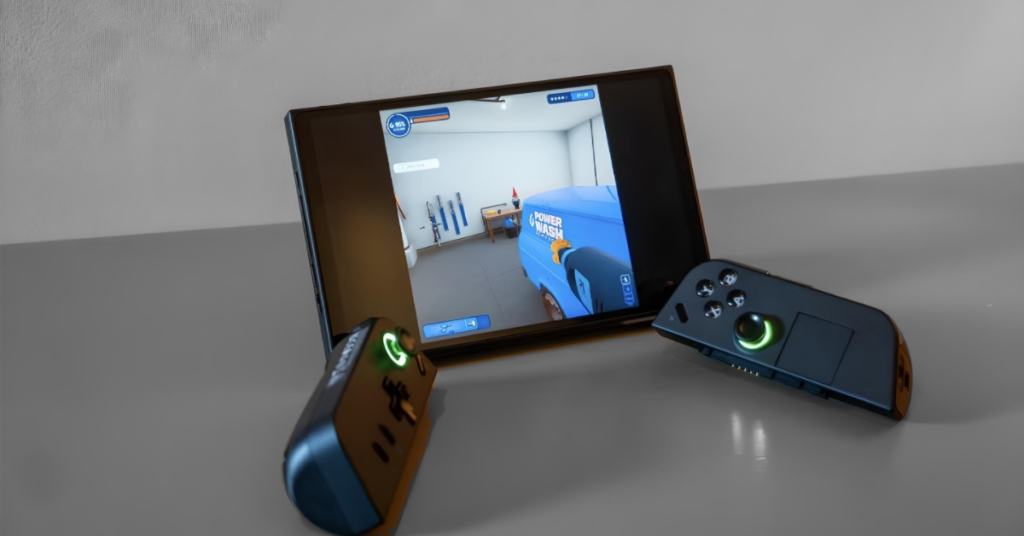 When you look at the display, things get a little weird. It has a huge 8.8-inch touch panel with 16:10 aspect ratio and Quad HD+ (2560×1600) resolution and 144Hz refresh rate, as well as 500 nits of brightness. You can switch between different modes, such as 800p resolution (like Steam Deck) and 60Hz, so you can save power or get more stable performance with demanding titles. The screen also covers 97% of DCI-P3, so colors should be excellent here.
As for controls, the Lenovo Legion Go goes a step ahead of competing handhelds by offering detachable controllers, meaning you can play without holding the PC in your hands. Additionally, the Perfect Controller comes with a controller base built for first-person shooters. You can detach the controller from the console and attach it to the base, and it uses an optical sensor at the bottom to provide precise aim control in shooting games. This mode also has multiple buttons around the right controller to initiate gameplay, which is more convenient.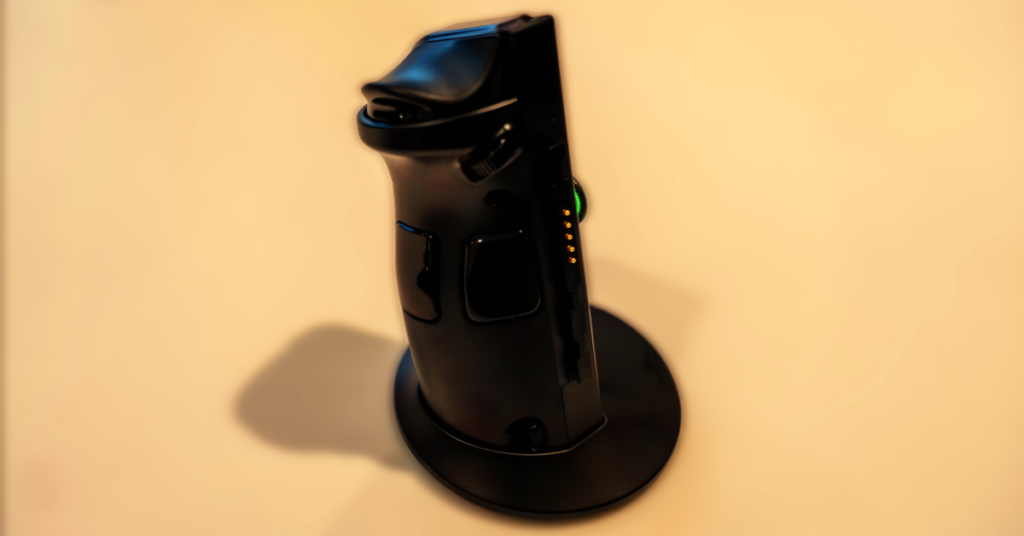 If all that wasn't enough, the Legion Go is one of the few gaming handhelds that uses a Hall Effect sensor joystick instead of the usual potentiometer-based joystick. Hall effect joysticks require no components to make contact, which means they don't wear out and should last a long time without the very dangerous stick drift.
They also allow you to configure the joystick with almost no deadzone, as they are very accurate and less prone to false readings. Along with the Legion Go, Lenovo also announced the Legion Glasses, a pair of glasses with a micro-OLED display that offers Full HD viewing at 60Hz, simulating a big-screen experience anywhere. You can plug them into any device that works with USB-C, and they support Windows, macOS and Android. The glasses also have built-in speakers for a great audio experience.
Finally, You can also get the Lenovo Legion E510 7.1 RGB Gaming Earbuds. These USB-C wired earbuds use 10mm armature drivers and have RGB lighting on the in-wire volume controller.
The Lenovo Legion Go launches in October and starts at $699, while the Legion Glasses will set you back an extra $329. The earbuds cost $49.99.
Lenovo Legion 9i has water cooling and mini LED
Lenovo is bringing back the Legion 9i as its premier gaming laptop, replacing the Legion Pro 7i we reviewed earlier this year. The Legion 9i takes things further by packing in a self-contained watercooling system inside the chassis. This cooling system was developed in partnership with Cooler Master and it delivers 230W of power to the laptop and weighs only 5.64 pounds. thereby enabling production. It is fast. Among the lightest 16-inch gaming laptops. For comparison, the Legion Pro 7i weighs 6.17 pounds, and even a thin laptop like the Alienware x16 can top 6 pounds.
This is especially impressive considering the specifications such as Intel Core i9-13980HX processor and Nvidia GeForce RTX 4090 laptop GPU. It also has the option to have up to 64GB of RAM. Lenovo's LA-2 AI chip is also included to enhance performance over time.
However, it's not just about power. The 3.2K PureSight mini-LED display on the Lenovo Legion 9i is the same as the one on the 16-inch Slim Pro 9i. This means it has a resolution of 3200×2000 and you can count on some of the best HDR experiences you can get even on a laptop. The display also has a 165Hz refresh rate, so it should keep fast gamers happy. However, it's a great display for creators and comes with pre-installed X-Rite software to switch between DCI-P3 and sRGB color profiles depending on user needs.
The Lenovo Legion 9i also looks pretty unique, with plenty of RGB lighting all around and a unique "fake carbon chip pattern" on the lid, so you'll stand out with it. It comes with a 99.99Whr battery which is the largest battery you will find in any laptop.
The Lenovo Legion 9i will launch in October with a starting price of $4,399.
There is also a 3D monitor
Focusing on creators, Lenovo also announced the new ThinkVision 27 3D monitor. Like other 3D products we've looked at recently, the ThinkVision 27 3D monitor doesn't require glasses to access 3D, and it uses an eye-tracking camera to direct stereoscopic images to your eyes. The performance and dimensions keep you stable even when you move around a bit, a 3D experience. Lenovo is also putting more emphasis on 3D content with 3D Explorer software, making it easier to find apps and content that take advantage of these 3D capabilities.
Of course, the monitor can also be used in 2D mode and color reproduction should be great with 99% coverage in both DCI-P3 and Adobe RGB. The monitor also has built-in speakers.
Lenovo is planning to release a 27-inch 3D monitor in January 2024 that will cost about $3,000.
Also Read: Is the Miyoo Mini Plus Worth the Hype?