Asian Footwears, a Delhi-based homegrown full-stack footwear brand, has recently partnered with Indian cricketing legend Mahendra Singh Dhoni as its brand ambassador. This strategic collaboration aims to enhance and solidify Asian Footwear's position in the competitive footwear market. Alongside MS Dhoni, former Indian cricketer Virender Sehwag also joins as one of the brand's ambassadors.
Elevating Asian Footwear with MS Dhoni's Endorsement
Rajinder Jindal, the Chairman and Managing Director of Asian Footwear, conveyed the brand's reasoning for choosing MS Dhoni as the ideal match for their principles. He stressed that both Dhoni and Asian Footwear represent outstanding quality, dependability, and a relentless quest for flawlessness. The partnership signifies their shared commitment to delivering exceptional performances and capturing the hearts of their audience.
Jindal further emphasized that Dhoni's dependability aligns well with Asian Footwear's reputation for solidity, sturdiness, and the ability to provide excellent comfort, support, and durability under any circumstances.
Former Indian cricket captain, Mahendra Singh Dhoni, expressed his enthusiasm for the collaboration with Asian Footwear. He described the brand as one that encapsulates the values of excellence and unwavering determination. Dhoni expressed eagerness to explore Asian Footwear's remarkable range of stylish shoes across various categories.
Furthermore, Dhoni highlighted the partnership's significance in connecting with the aspirations of the Indian masses. Together, they aim to inspire individuals to pursue their dreams and take confident strides, while Asian Footwear ensures that they make the right choice of footwear, providing comfort and style every step of the way.
A Deeper Connection with Customers
Aayush Jindal, CEO of Asian Footwear, acknowledged Mahendra Singh Dhoni's iconic status and inspiring persona. The collaboration allows the brand to connect with customers on a deeper level, leveraging Dhoni's influence to reinforce its values and elevate its presence in the market. The brand takes pride in having MSD on its team and looks forward to a long-lasting partnership.
Expertise from Midas in Managing the Association
Vikas Hasija, a representative from Midas, the association's management firm, expressed excitement about the collaboration between Mahendra Singh Dhoni and Asian Footwear. Hasija praised the passion, dedication, and commitment displayed by the young and agile team at Asian Footwear. He firmly believes that the brand possesses the intrinsic capability to make a lasting impact in the footwear industry while embodying the essence of MS Dhoni's values and excellence.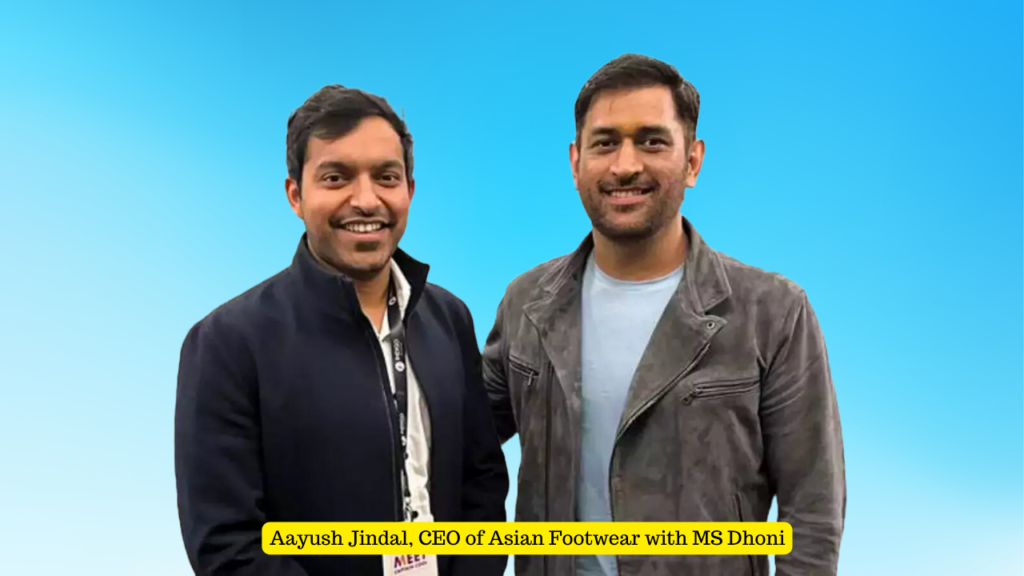 Asian Footwear: A Brand Committed to Innovation and Quality
Asian Footwear, a thirty-year-old brand, has become one of India's fastest-growing and most popular footwear brands. With a diverse portfolio catering to all age groups and genders, Asian Footwear has successfully adapted to the ever-changing demands of the market. The brand places a strong emphasis on ongoing innovation, utilizing a comprehensive full-stack production process and rigorous quality control measures.
The latest declaration comes after a substantial investment of INR 225 crore from Motilal Oswal PE, representing a crucial move towards fulfilling the company's goal of delivering premium Made in India products to international markets. Asian Footwear's newest product lines, including the Ultracore, Twinspring, and Metacushion series, have garnered positive responses for their fashion, design, and functionality.
Asian Footwear boasts a widespread presence in India, with over 10,000 outlets and availability on leading e-commerce platforms. The brand also plans to expand its network of exclusive brand showrooms aggressively. Currently, Asian Footwear operates 13 stores across Delhi-NCR, Haryana, Uttar Pradesh, and Gujarat.
Conclusion
The collaboration between MS Dhoni and Asian Footwear signifies a significant milestone for both parties. Dhoni's endorsement amplifies the brand's values and aspirations, while Asian Footwear continues to innovate and deliver top-quality footwear to its wide customer base. With its combined expertise and appeal, this partnership is poised to make a lasting impact in the competitive footwear market.
Also Read:  ICC ODI WC Qualifiers Final